AlphaQ Recirculation Blow-Off Valves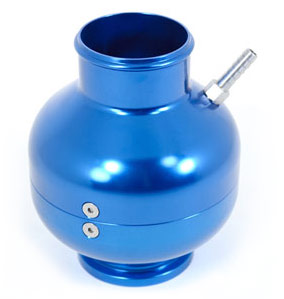 For use on turbo-chrarged and super-charged applications (Paxton, Vortec, etc.). The body and all internall components are CNC-machined from 6061 aluminum alloy. It features a large 1.98 in ( 50.5 mm ) valve.
The V-Band design aluminum mounting clamp gives a very clean and unique appearance. The clamp uses Stainless Steel hardware for a long lasting, corrosion-free apearance.
The valve seal utilizes a viton O-ring that is clamped in place to prevent the possibility of sticking to the seat and pulling out. The valve stem and guide are Teflon-lubricated, hard anozide-coated for wear resistance.
An aluminum or mild steel weld base mounting flange is furnished with each unit. Stainless steel is available an additional cost.
What's inside the box?

TiAL Alpha Q BOV assembly
TiAL V-Band clamp
V-Band weld flange
High Pressure O-ring
TiAL air fitting
Available finishes

Silver
Black
Red
Blue
Purple
Spring Pressures

Flange Materials

Aluminum
304L Stainless Steel
1018 Steel