Turbo II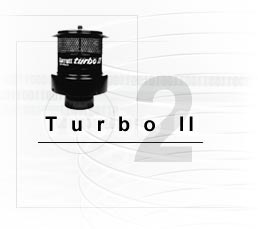 Benefits
Removes 98% of dust and debris at the air inlet.
Self-cleaning.
Spins because of the normally-aspirated air from the engine.
Installed in seconds.
Saves money.
Extends engine air filter life.
Saves fuel.
Prolongs engine life.
Minimizes down time.
Los Precleaners turbo II eliminan hasta un 98 % de los contaminantes, incluidos el polvo, la arena, insectos, lluvia y nieve. Elimina la suciedad y los residuos en la toma de aire antes del filtro, logrando que el motor rinda a su máxima potencia.
Los Precleaners turbo II eliminan hasta un 50 % de suciedad y residuos que los demás Precleaners del mercado. Aire limpio significa mayor duración de los filtros, aceite limpio, reducción del desgaste del motor y aumento del rendimiento.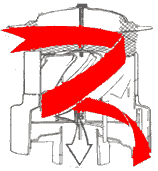 The turbo II precleaners are self-powered and self-cleaning, almost no maintenance required.
How it works
El prefiltro turbo II ha sido diseñado con álabes inclinados, que fuerzan el giro del aire al entrar. Al rotar el aire la fuerza centrífuga separa las partículas sólidas, polvo, arena, agua y nieve del aire limpio. Los contaminantes son expulsados por unas aberturas laterales en la base del prefiltro, y solamente el aire limpio entra en el motor por el centro del prefiltro.



Dimensions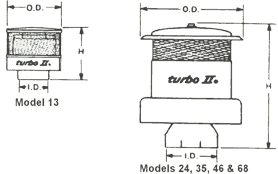 Model
Part Number
Range - CFM
O.D.

mm

H

mm

I.D.

mm

Weight

Kg

13
701566-0001
50 a 100
165
165
76
1.00
24
701566-0002
100 a 250
203
279
76
2.30
24 - 4"
701566-0003
100 a 250
203
279
102
2.30
35
701566-0004
250 a 350
241
311
114
2.90
46 - 4" 1/2
701566-0005
350 a 700
311
356
114
5.00
46 - 5"
701566-0006
350 a 700
311
356
127
5.00
46 - 6"
701566-0007
350 a 700
311
356
152
5.00
46 - 7"
701566-0012
350 a 700
311
356
178
5.00
68 - 5"
701566-0008
700 a 1100
311
438
127
7.25
68 - 6"
701566-0009
700 a 1100
311
438
152
7.25
68 - 7"
701566-0010
700 a 1100
311
438
178
7.25
68 - 8"
701566-0011
700 a 1100
311
438
203
7.25