Turbo I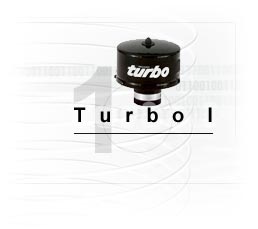 Benefits
Removes 98% of dust and debris at the air inlet.
Self-cleaning.
Spins because of the normally-aspirated air from the engine.
Installed in seconds.
Saves money.
Extends engine air filter life.
Saves fuel
Prolongs engine life
Minimizes down time.
Hay un Precleaners turbo I para cualquier motor a partir de 15CV. Autopropulsado, auto limpiable, no es necesario quitarlo para hacerle ningún tipo de mantenimiento. Tampoco necesita manguitos o conexiones tipo venturi que detraen potencia del motor. El polvo, la suciedad, los insectos el agua y la nieve son eficazmente separados del aire limpio, protegiendo los filtros y manteniéndolos limpios por más tiempo. Un filtro limpio hace que el motor respire más fácilmente y economice combustible. Los cuatro Precleaners turbo I tienen entradas desde 1-1/2" a 5".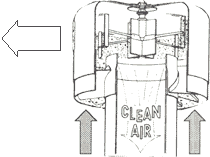 How it works
El prefiltro turbo I ha sido diseñado con álabes inclinados, que fuerzan el giro del aire al entrar. Al rotar el aire la fuerza centrífuga separa las partículas sólidas, polvo, arena, agua y nieve del aire limpio. Los contaminantes son expulsados por unas aberturas laterales en la base del prefiltro, y solamente el aire limpio entra en el motor por el centro del prefiltro.



Dimensions

Model
Part Number
Range - CFM
O.D.

mm

H

mm

I.D.

mm

Weight

Kg

12
701566-0021
20 a 50
130
133
50
0.6
23
701566-0022
50 a 130
140
260
76
1.4
34
701566-0023
130 a 270
210
222
114
2.0
45
701566-0024
270 a 460
210
222
118
2.0