Flex-in-line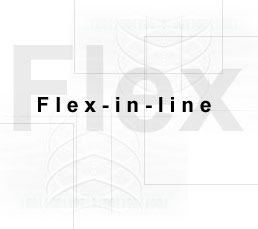 Benefits
Removes 98% of dust and debris at the air inlet.
Utilizes existing air intake.
No holes in engine hood.
No impaired vision.
Saves money.
Extends engine air filter life.
Saves fuel.
Prolongs engine life.
Los Precleaners flex-in-line son una nueva generación que incorpora un nuevo diseño que mejora la eliminación de la suciedad e impurezas a la vez que disminuye la resistencia al paso del aire.
Los Precleaners flex-in-line son los únicos de su tipo en el mercado y cumplen las requisitos más exigentes para la instalación en los motores del futuro.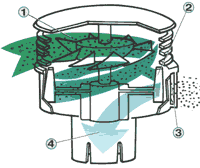 How it works
El prefiltro flex-in-line ha sido diseñado con álabes inclinados, que fuerzan el giro del aire al entrar. Al rotar el aire la fuerza centrífuga separa las partículas sólidas, polvo, arena, agua y nieve del aire limpio. Los contaminantes son expulsados por unas aberturas laterales en la base del prefiltro, y solamente el aire limpio entra en el motor por el centro del prefiltro.
Dimensions

Model
Part Number
Range - CFM
O.D.

mm

H

mm

I.D.

mm

Weight

Kg

2" ( horizontal )
701566-0040
20 a 75
4-1/2" ( horizontal )
701566-0037
200 a 400