There have recently been some changes to Ford group turbos which may lead to problems with future Service Replacements. This bulletin is issued to help avoid these problems.
The compressor inlets on these turbos have been modified to include a bead, to make the inlet hose fit more securely onto the turbo. See the drawings below: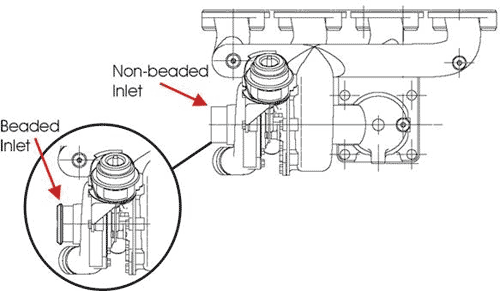 Please note that these drawings show a typical turbo from this group, not a specific part number.
Whilst this is a very minor change, both Ford and our own applications engineers insist that the new turbos are NOT designed to be directly interchangeable with the older non-beaded type. The inlet hose has also been modified to suit this change. The hoses are made from hard plastic and the older type hose will not fit onto the new compressor inlet with a bead.
To ensure that you supply the correct turbo to your customer, you will need to find out the exact application and either supply the turbo with a new hose (sourced by yourselves locally) or advise your customer to fit a new hose from the Ford or Jaguar dealer.
The table below shows the turbo part numbers affected by this change with their applications. You will notice that in some cases, the same part number is used on different applications. For this reason, it is not possible for us to include a new hose with the turbo – you must find out exactly which application your customer has ordered the turbo for, and then supply the turbo with the correct hose.
| | | | | | | |
| --- | --- | --- | --- | --- | --- | --- |
| Inlet Bead? | Garrett part number | Ford Part number | Turbo Model | Engine Size | Emissions Standard | Application1 |
| Without | 708618-0009 | 1S7Q-6K682-AJ | GT2049S | 2.0 Litre (mid EGR) | | Ford Mondeo TDCi 90PS |
| With | 708618-0011 | 1S7Q-6K682-AK | GT2049S | 2.0 Litre (mid EGR) | | Ford Mondeo TDCi 90PS |
| | | | | | | |
| Without | 714467-0012 | 3S7Q-6K682-AD | GT1749V | 2.0 Litre | | Ford Mondeo TDCi 130PS |
| Without | 714467-0012 | 3S7Q-6K682-AD | GT1749V | 2.0 Litre | | Ford Transit TDdi 125PS |
| With | 714467-0013 | 3S7Q-6K682-AE | GT1749V | 2.0 Litre | | Ford Mondeo TDCi 130PS |
| With | 714467-0013 | 3S7Q-6K682-AE | GT1749V | 2.0 Litre | | Ford Transit TDdi 125PS |
| | | | | | | |
| Without | 726194-0004 | 2C1Q-6K682-BD | GT2049S | 2.0 Litre (end EGR) | | Ford Transit 85PS |
| Without | 726194-0004 | 2C1Q-6K682-BD | GT2049S | 2.0 Litre (end EGR) | | Ford Transit TDdi 100PS |
| With | 726194-0005 | 2C1Q-6K682-BE | GT2049S | 2.0 Litre (end EGR) | | Ford Transit 85PS |
| With | 726194-0005 | 2C1Q-6K682-BE | GT2049S | 2.0 Litre (end EGR) | | Ford Transit TDdi 100PS |
| | | | | | | |
| Without | 728680-0010 | 4S7Q-6K682-EJ | GT1749V | 2.0 Litre | Euro IV | Ford Mondeo TDCi 130PS |
| With | 728680-0012 | 4S7Q-6K682-EK | GT1749V | 2.0 Litre | Euro IV | Ford Mondeo TDCi 130PS |
| | | | | | | |
| Without | 752233-0004 | 4S7Q-6K682-EC | GT1749V | 2.2 Litre | Euro III | Ford Mondeo TDCi 155PS |
| With | 752233-0007 | 4S7Q-6K682-EF | GT1749V | 2.2 Litre | Euro III | Ford Mondeo TDCi 155PS |
| | | | | | | |
| Without | 758226-0002 | 6S7Q-6K682-AB | GT1749V | 2.2 Litre | Euro IV | Ford Mondeo TDCi 155PS |
| With | 758226-0004 | 6S7Q-6K682-AD | GT1749V | 2.2 Litre | Euro IV | Ford Mondeo TDCi 155PS |
Trevor Cass
Product Support Engineer
Honeywell Turbo Technologies